1. Where does Ebola come from?
Ebola was first discovered in 1976. It was originally thought to originate in gorillas, but scientists now believe that bats are the natural reservoir for the virus. It is believed (though there is no conclusive evidence) that apes and humans catch it from eating food that bats have drooled or defecated on, or by coming in contact with surfaces covered in infected bat droppings and then touching their eyes or mouths. The current outbreak seems to have started in a village near Guéckédou, Guinea, where bat hunting is common, according to Doctors Without Borders.
2. How does the virus multiply in the body?
The Ebola virus infects cells by penetrating the cell and injecting a small piece of viral RNA into the cell. The RNA uses the native machinery of the cell to create more copies of the Ebola virus, which in turn infects other cells.
3. How is Ebola Spread?
Ebola is spread through direct contact with body fluids. Transmission is usually through contact with an infected person's blood or vomit which gets in the eyes, nose or mouth. Although Ebola does not cause respiratory symptoms, a cough or sneeze from a sick person could possibly transmit the disease since the virus is present in saliva. The exact way in which droplets can transmit the disease is currently up for debate. The CDC takes the position that the virus cannot be spread through airborne droplets but some virologists disagree. For this reason, people who remain in close proximity (less than three feet) to an infected person for an extended period of time are considered to be in direct contact. The virus can survive for several hours on surfaces like doorknobs and countertops and can survive for several days in puddles of bodily fluid that collect outside the body. Any object contaminated with bodily fluids may spread the disease. Bleach solutions will kill the virus.
4. How does the disease progress?
Patients with Ebola generally have onset of fever and flu-like symptoms around 8 to 12 days after exposure. In a few cases symptoms may appear as late as 21 days after exposure. At first, Ebola is similar to the flu, causing a headache, fever, aches and pains. Sometimes a rash will be present. Diarrhea, vomiting and loss of appetite follow. The most common signs and symptoms reported from West Africa during the current outbreak from onset of symptoms to the time the case was detected include: fever (87%), fatigue (76%), vomiting (68%), diarrhea (66%), and loss of appetite (65%). In non-fatal cases, patients may have symptoms for several days and improve, typically around the 6th day of symptoms. Once a patient has recovered, they are no longer at risk to transmit the disease.
In serious cases symptoms rapidly become more severe. Patients may vomit or pass blood in the urine or stool, or develop bleeding under the skin or hemorrhage from their eyes or mouth. In the current outbreak unexplained bleeding has been reported in only 18 percent of cases. A change in the permeability of blood vessels causes blood pressure to drop so low that the heart, kidneys, liver and other vital organs begin to fail. This state of shock must be aggressively managed with IV fluids and drugs to maintain organ perfusion. Patients with fatal disease develop these symptoms early during infection and die between days 6 and 16 (mean of 7.5 days from onset of symptoms to death during the current outbreak in West Africa). In past outbreaks the virus has been fatal in 50 to 90 percent of cases. (Source: CDC – Ebola Information for Clinicians.)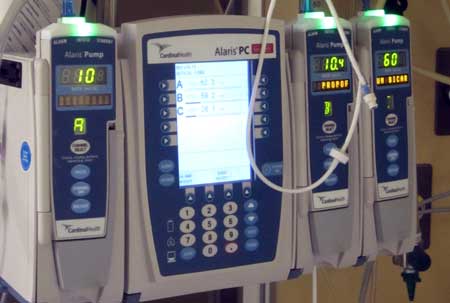 5. Where is the current Ebola outbreak located?
Ebola continues to spread in the three Western Africa nations of Guinea, Liberia and Sierra Leone. The C.D.C. said on Sept. 30 that Nigeria appears to have contained its outbreak.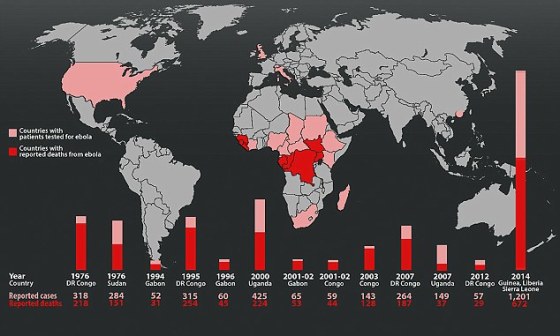 6. How many people have been infected?
More than 9,200 people in Africa, Europe and North America have contracted Ebola since March of 2014. The death toll now stands at over 4,500.
7. How many people have been diagnosed or treated outside of Africa?
At least 17
. Most of these are health and aid workers who contracted Ebola in West Africa and were transported back to their home country for treatment.
The US has had eight cases. Three patients have recovered, one has died, four are still in treatment.
France has had one case where the patient recovered.
Great Britain has had one case where the patient recovered.
Spain has had three cases. Two have died, and one patient is still in treatment.
Germany has had three cases. One has died, one has recovered and one is still in treatment.
Norway has had one case where the patient is still in treatment.
8. How many health care workers have contracted Ebola?
Of the 17 people outside of Africa who have tested positive, 12 of them were providing care for patients who had the virus. More than 400 health care workers in West Africa have been infected during the current outbreak, and 233 have died as of Oct. 8. The World Health Organization said the high rates of infection among medical workers could be due to shortages or improper use of protective equipment, not enough medical personnel, and long working hours in isolation wards.
9. What are the chances of being infected?
Given that there are so few cases of Ebola outside of Africa, the chances of being infected are almost zero if you live outside of that region. Most of the new cases being reported have occurred among people providing care for infected people and their families or among people who have prepared an infected body for burial. Health care workers who treat infected patients are at high risk. Officials from the CDC believe there is no risk of transmission from people who have been exposed to the virus but are not yet showing symptoms.
10. Are there drugs to prevent or treat Ebola?
There are currently no drugs or vaccines approved by the FDA to treat or prevent Ebola.  An experimental drug called ZMapp might help infected patients, but it is unproven in clinical trials. The US government plans to fast-track development of a vaccine shown to protect macaque monkeys, but there is no guarantee it will be effective in humans. Beyond this, treatment is limited to IV fluids and medications that help maintain blood pressure. Ebola survivors develop antibodies against the Ebola virus. Antibodies are proteins that can latch on to a specific virus and prevent it from infecting cells. The World Health Organization suggests that plasma extracted from Ebola survivors that contains these antibodies might be used as a treatment, but the few trials that have been done were not promising. A small number of people appear to have an immunity to the Ebola virus.
11. How does this Ebola outbreak compare with past Ebola outbreaks?
This is the worst outbreak in history. The most severe prior outbreak was in 1976, where 602 cases were reported and 431 people died. So far more than ten times as many people have died in this outbreak.
12. How does this Ebola outbreak compare with other infectious disease outbreaks?
Due to advances in medicine, we rarely see the type of severe epidemics that happened a few hundred years ago. The highest number of deaths in the last 50 years from an infectious disease outbreak came during the SARS epidemic in Southern China between 2002 and 2003. The total number of cases reported from that outbreak was around 8,200 with 775 deaths, for a fatality rate of less than 10 percent. To date the total number of infections from Ebola stands at 9,200 with 4,500 deaths for a fatality rate of around 50 percent.
13. How many people could become infected?
The World Health Organization reported on Oct. 14 that there could be as many as 10,000 new cases per week by December of this year.
The Centers for Disease Control published a report in September giving its best and worst case scenarios: Under their best-case scenario they estimate between 11,000 and 27,00 total cases through Jan 20th. Their worst case scenario estimates that the number could reach 1.4 million.
14. Can the power of God kill the Ebola virus?
During the early part of the 20th century there was a great outbreak of the  plague in South Africa that killed thousands of people. During the outbreak, John G Lake was planting churches and healing the sick that were there. The US government sent a ship with supplies and doctors to provide aid. One of the doctors asked Lake, "What have you been using to protect yourself? Our corps has this preventative and that, which we use as protection, but we concluded that if a man could stay on the ground as you have and keep ministering to the sick and burying the dead, you must have a secret. What is it?"
Lake answered, "Brother that is the law of the Spirit of life in Christ Jesus. I believe that just as long as I keep my soul in contact with the living God so that His Spirit is flowing into my soul and body, that no germ will ever attach itself to me, for the Spirit of God will kill it."
"Don't you think that you had better use our preventatives?"
"No. But doctor, I think that you would like to experiment with me. If you will go over to one of these dead people and take the foam that comes out of their lungs after death, then put it under the microscope you will see masses of living germs. You will find they are alive until a reasonable time after a man is dead. You can fill my hand with them and I will keep it under the microscope, and instead of these germs remaining alive, they will die instantly." They tried it and found it was true.
They asked, "How is that possible?"
"That is the law of the Spirit of life in Christ Jesus. When a man's spirit and a man's body are filled with the blessed presence of God, it oozes out of the pores of your flesh and kills the germs. Suppose on the other hand, my soul had been under the law of death, and I were in fear and darkness? The very opposite would have been the result. The result would have been that my body would have absorbed the germs, these would have generated disease and I would have died."